Discover The 7 Key Elements That Every Successful Marketer Follows


"The Secret To Online Success Is NOT A Key!
It's A 7 Key Combination Lock!"
From: John Thornhill & Randy Smith.
Subject: Success Combination! - Extracting the 7 keys to success
Hello and welcome to a truly revealing page.

First of all I want to explain this report was originally released in 2007. However, the material contained in it is just as valuable today as it always has been. I have also brought it right up to date and have included some extra material. To be honest after reading and updating the material I honestly think this is one of the best things I have put out, and as I want to get this report in as many hands as possible I have decided to offer this at the lowest price ever. So if you want to unlock the 7 keys to success it starts right here. I'll now hand you over to Randy who will explain how this report came about...
My name is Randy Smith and on this page you'll see how I extracted the 7 Keys that every successful marketer follows from none other than John Thornhill.
John has been making a full time income online for years now and has slowly but surely risen through the ranks of internet marketers to the point of being labelled a Guru to some and mentor to others.
While you read every word on this page, you'll learn the exact keys John told me I'd need to follow if I wanted to turn a few hundred a month income into thousands.
If you're anything like me, you've probably seen reports and eBooks all over the place offering the key to success.
You've no doubt bought one or more of these - only to find that yes, the information was good, the content accurate and even eye opening......

So off you go, more trial and error until you are pitched to buy yet another product that will surely be the key to your success!I followed a similar path for years - 5 years to be precise
(In fact I often wonder how I lasted so long)
Then a couple of years ago I came across one of John's eBooks, as usual I duly bought the product and began reading it.... John included so much good content that I found myself joining his forum.
Try to picture the scene - here I was still a relative newbie because the only thing I had so far learned was how to get out my credit card and pay for yet another 'Key to Success' that had failed to move me on.
Is that a hard picture to see?.... or do you find it easy to visualize because you've been there yourself?
Trust me I know how you feel, I felt let down and de-motivated myself on nearly every occasion.
But this time it did seem different, I found John to be approachable and active in his forum, along with some great members who all seemed to help each other.

Having learned to accomplish some things online I was earning a few hundred a month and even helping out myself, offering my skills and services.
And this is what John has taught me, that delivering value to others is the key to internet riches, if you get to know John and listen to what he says over a period of time you start to realize that a lot of what he teaches is so simple, yet most people do things completely wrong. This was when I knew I had to find out more, and here we are today.
Can you imagine if you could just get someone like John to really open up in one fell swoop? Think about how much more quickly and easily you could achieve your dreams of a regular income of hundreds or even thousands of dollars online - if you could just find all the keys to successful marketing in one place!
Well after knowing John for a couple of years I gained enough respect from him, to have him open up to me. We even formed a relationship where John would hire me to do some of the work he outsourced, and it was during one of these tasks that I really got to chat about my future and how I could get myself on the right road to regular profits.
Here's what happened...
I extracted the 7 keys to success from John that he follows religiously, and I put them to use.
Net result - my list grew, my income grew and my online reputation grew!
And as John has seen the difference it made in me - he's insisting we share this information with others.
Those others include you - if you seriously want to get ahead online.
If you have dreams of seeing regular "Notification of Payment Received" in your inbox.
If you can picture yourself opening the door to success not with some fantasy single key - that never quite seems to fit the lock then allow me to introduce...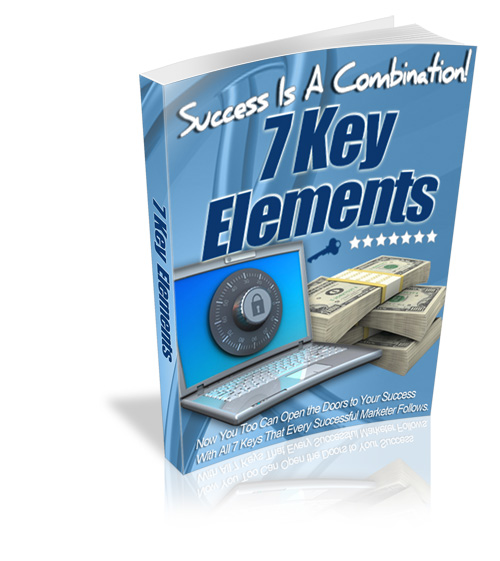 John has made me document each and every key.
I've quizzed him time and again to draw out of him the Why's and the How's that you need to follow, so that as sure as you're staring at a computer screen to read this - you have the answers you need to guarantee your freedom.

You'll be free from ever wondering again what the missing key is.
You'll know each and every element that goes into a successful online marketers thinking.
When you apply key one you'll be setting off on the right track.
With key two - Things will start happening for you.
Maybe you've even been this far before only to feel it all falling away from you ---

Not Anymore

Key three may even frustrate you, but when applied to the combination

you'll know and feel a big difference

in how far you'll progress as you implement key four into your business.
By the time you've implemented and used key five - not only will you be

receiving those regular payment notifications,

You'll know what it feels like to have achieved something

that many fail to get near.
I'd even risk saying that some reading this may have had more than

one of these keys in their hands before - but frankly ..

... a combination lock will only fully open when

all the keys are in place and used together to burst open that door!

When you get to keys six and seven you'll know not to stop, you wont want to rest on your laurels,

you've made it to the freedom and security that will be yours...

You'll fully understand what it is that will make the big difference for you, and

you'll discover it turning those final keys!
By the time you have all the keys in place - there wont be any doubt in your mind or your account balance that you have what it takes ... you'll have the self same keys that every successful marketer follows and you'll know exactly how to open doors with them. So I ask you?

Do you have any concerns that these keys will be safe in your hands?
Let me assure you - once John had talked me through the 7 keys to Success, I went on to see increases in every area of my activities online..... put simply, They Work! The question really is, will you put them to work for you?
I did, and as a sign of gratitude when John asked me to write it all up - I jumped at the chance.
I could have simply done yet another question and answer audio or transcript.... but instead I chose to make an effort to detail everything John had taught me because John sincerely wants to help others and he truly helped me.
Now I get to pay him back by helping make this the best I can so that together we can help you.
I'm hoping that will show John my thanks, Show you that If I can do this anyone can, and finally allow you to realize your dreams by handing you the keys to your future.
The choice is now yours - We've done our part in making this report for you.
So now it's crunch time, where you try to guess the price of this report. I'm guessing you're thinking it will cost you at least $47.00 and you may even think as much as $97.00
Well as an exclusive offer we have decided to price this report at:

The main reason we have priced this report so low is so it is within everyone's reach. You really have no excuses for not discovering the Seven Key Elements to Online Success.
By now you must realize that you need to order now, to access the combination of keys that will lead you through the door to successful marketing, but if that's not enough I'll back up your purchase with a guarantee.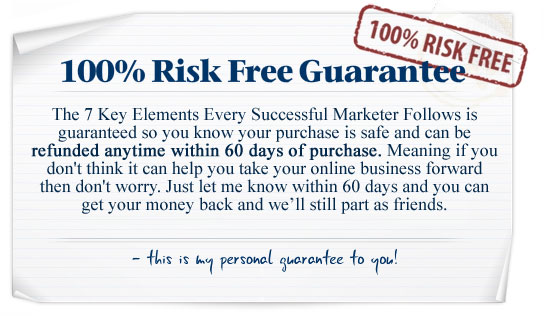 Your Purchase is 100% Secure And is Guaranteed!
Simply Click The 'Add to Cart' Button Below For Instant Access.


Yes John & Randy, I am ready to learn the 7 key elements every successful marketer follows.


I am ready to take my online business to the next level and learn advanced strategies.


I am ready to learn what it takes to truly succeed online in 7 easy to follow steps


I understand I have nothing to lose with your unconditional 60 day money back guarantee. If I am not 100% delighted with your service all I need to do is let you know within 60 days and I will receive a full refund, no questions asked.


On that basis, here's my $8.95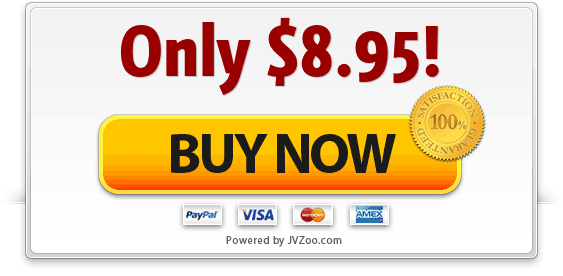 Access is instant, even if it's 3am
Click the 'Add To Cart' button above now and we look forward to hearing YOUR success story very soon.
Remember! We have spent years and who knows how much money learning how to do things correctly. For one low price, you'll get to benefit from ALL of our experience.
We'll see you on the other side :)

P.S. - Don't keep buying one key, Even if you find seven - they may not be the correct combination. Get them all right and save yourself time and money. Get them now and together they'll show you the way through the door to success.
P.P.S. If you've tried to make money before and failed then it isn't your fault. Let us teach you everything we know about the 7 Key Elements Every Marketer Follows so that you can avoid the pitfalls that others have to endure!